On-Demand

Green Light Delivery offers call-in delivery to Austin and surrounding areas with the following service levels available: Rush, 1-hour, 2-hour, 4-hour, and 1-day.

We can deliver just about anything from documents, to heavy, bulky objects. Our dispatcher works very closely with our team of drivers to ensure that as soon as you place an order your package is delivered within the requested service period. We guarantee that your delivery will be on time… otherwise there will be no charge for the order*.
*Delivery times are not guaranteed for deliveries called in after 3:00 PM, during inclement
weather conditions,adverse traffic conditions, mileage deliveries or otherwise specified at
the time of order

Scheduled Deliveries

Green Light Delivery offers scheduled delivery services to help our clients improve efficiency and mitigate costs. Scheduled deliveries can be arranged for any time interval and will be handled by a professional driver you will be happy to see at each pickup or drop-off.
Post Office Runs – Pickup from PO Boxes, UPS Store, or any other mailbox.
Mail Drops – Drop-off of mail at the post office, Fedex, UPS, etc
Inter-office Mail Delivery – Affordable, convenient, same-day delivery of mail between offices
Bank Deposits – Let Green Light Delivery wait in line for you, make the deposit, and return your deposit slip
Medical – Scheduled pickup or drop-off of medical specimens.
Other – Need to make a recurring pickup or delivery more cost effective or more seamless? Just give us a call - we have a solution for any type of scheduled delivery need.
Dedicated Drivers

Green Light Delivery can provide a dedicated driver to your company at a flat, low monthly rate. Let us worry about finding the driver, managing the fleet, training the driver, managing the logistics, and handling the paperwork. As a client you can concentrate on what you do best and let us handle your delivery needs with resources that will be dedicated to your business.

Logistics

Green Light Delivery works with national ground and air shippers and has relationships with trusted courier services in several other cities. Just give us the package and the address and we will take care of the rest.

Training

Does your industry require delivery drivers to have special training or knowledge? Green Light Delivery goes to great lengths to ensure that our drivers are properly trained for all aspects of their job and that that only trained drivers handle packages that require special care or knowledge. In addition to driver training on customer service, safe driving, world-wide shipping and internal processes, Green Light Delivery creates training programs specialized for teaching the special needs of industries that require special knowledge.
Medical – Green Light Delivery's team of medical drivers are specially trained on delivery of medical specimens. Our medical drivers are experienced at delivering medical specimens and are equipped with equipment necessary for specimen transfer including: spill-proof specimen transport cases, foam coolers, access to dry ice, and in-car spill kits. Additionally Green Light Delivery is HazMat certified which includes compliance with IATA, ICAO, USDOT, USPS, and FAA requirements and security measures.

Legal - Green Light Delivery has specially trained drivers experienced at filing documents at the court, filing with government agencies, getting documents notarized, filing deed recordings, transferring court exhibits, and any other legal work.

Floral – Drivers on our Floral delivery team are equipped with foam carriers for the secure transportation of floral arrangements, vases, and gifts. Additionally, all floral drivers are trained on proper treatment of arrangements so that they arrive fresh to the recipient.
Off-Site Storage

Is your business outgrowing your office space? We can help free up office space by storing your records or inventory off-site. By using our off-site storage facility you will gain extra space and have easy access to your materials. We will move your boxes to our facility for you and delivery items whenever they are needed.

Our storage service can save you money and give you room to breath:
Easy access to your records, immediate delivery available.
Store additional items any time.
Flexible storage terms – your storage grows as your needs do, so you won't pay for space you don't need.
We will receive and store your shipments until you request them.
Your items are secured and insured.
After Hours/Weekends

We have drivers working around the clock and on weekends available for all of our delivery services. In fact, we have special night and weekend pricing plans for our clients that frequently use service outside of normal business hours. Give us a call if your business has a need for our 24/7 delivery availability.

Online Ordering

Green Light Delivery has upgraded its systems to include a comprehensive online ordering tool. Just give us a call and we will set up a username and password for you to start using our easy-to-use online ordering and tracking system.

Benefits of Online ordering:
Efficiency – Once your account is set up with us you can have all of your common pickup and delivery addresses right in front of you, enter and track orders, and receive all correspondence online. This eliminates the time consuming phone calls and lets you and your staff use their time more effectively. (of course we will still always be available on the phone when you need us).

Self Service – Online ordering eliminates the risk of miscommunication. By placing an order online you are able to see the status of the order at any time you wish. Additionally, the online interface can store all of your addresses and even let you create different accounts for different individuals within your company.

Our online interface is the ultimate in self-service for your local delivery needs.

Record Keeping – All order information entered, or recorded by Green Light Delivery, is maintained in the searchable database. Using Order Tracking and Search tools, webs users can view and print records of current and past orders, making the web component a useful reporting tool.

Ease of Use – Green Light Delivery's web interface was designed so anyone can use it. You can quickly learn the system to place, view and search orders.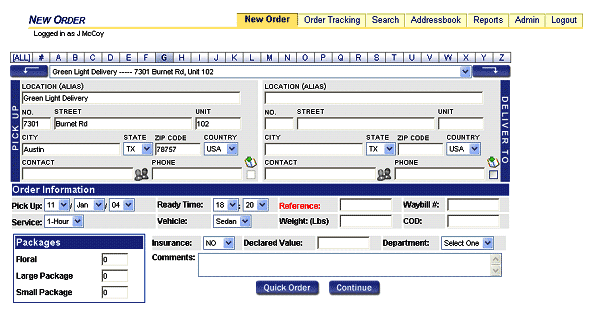 How to get started:
Call 800-849-6551 to set up an account and password.
Login at www.austincouriers.com
Place order